I got tears in my eyes reading this article reporting Pope Francis encouraging breastfeeding in church.
"If they are hungry, mothers, let them eat, no worries, because here, they are the main focus,"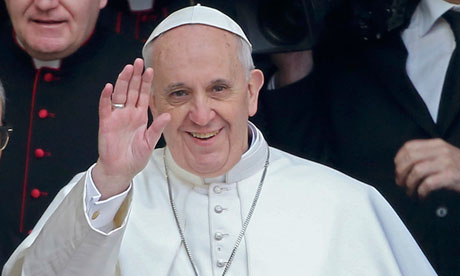 I don't practice a formal religion, though I was brought up Catholic by a mother who was schooled in a convent, and a grandmother who was raised in a Catholic orphanage and served the Church so fiercely and sweetly in her life that you'd have thought she was a nun.
When Ky and I traveled to Italy, we visited the Vatican. Pope John Paul II was still interred and they hadn't yet finished building his weird Sleeping-Beauty-esque eternal sarcophagus in St Peter's Basilica. (In fact there was a "coming soon!" sign over the construction area where his glass coffin would soon reside - as if he were a Sephora franchise in a mall). My main memory of the Sistine Chapel? "No photos! No photos!" being yelled by the guards. I barely took in the beauty for all the simmering anger and stress.

Pope Benedict wasn't a very familiar or beloved figure then. When we were in the Vatican, we heard about 100x more "Pope John Paul" references than "Pope Benedict" and Benedict's wares weren't selling very well in the gift shop (the grace note?). I don't think people ever connected to him.
When Pope Francis was elected I loved him first for the name he chose (it's a family name for me - Ky was nearly a Francis!) and then for the things he said, and then for the acts he did. Each time he makes the news, I feel even more warmly towards him.
It makes me wish that Ky were a little baby again. That I could breast feed if needs be in the Vatican, knowing the Pope had given it his blessing, knowing that he'd made the world just that little bit safer and happier and more real.